Joined

Dec 29, 2006
Messages

2,165
Likes

0
Points

0
JoJo\'s Bizarre Adventure
(
AniDB
|
Wiki
|
Read Online
)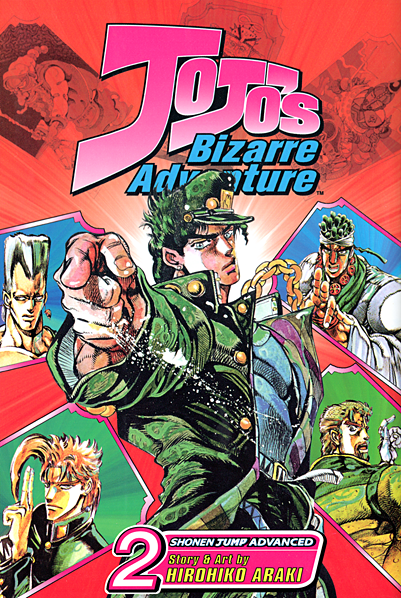 The story of JoJo\'s Bizarre Adventure centers around the misadventures of the Joestars, a powerful family with English roots; most of its members attract the most particular trials and tribulations when confronting their enemies. Each member of the bloodline has a star shaped birthmark above their left shoulder blade – Dio and his descendants have this distinguishable mark also, as a result from the \'theft\' of Jonathan\'s body and inheriting the Joestar genes as well. The series spans several generations, with each part featuring a descendent of the Joestars as the main protagonist along with a large cast of characters.
Jedna od mojih omiljenih mangi,fail je sto sam prvo pogledao OVA\'s pa tek onda citao mangu.Nije mi blla jasna fora sa maskom dok sam gledao
CRTIC
ali u mangi je sve full objasnjeno i nema nijednog propusta.OVA mi je posluzila da se maximalno primim na pricu i da mi
ispojluje
jedan od najjacih fightova koje sam gledao/citao, Jotaro VS. DIO. (jedan od best negativaca)
DIO je takav bad ass da nema pokajanja...\"To sam uradio zato sto su me mucili u wc-u skole,da pomognem bratu/sestri/majci/tetki pa sam se na putu pokvario itd\"...on je zao zato sto je
ZAO
FTW
Some people just want to see the world burns
Zbog toga mi je high na listi bad guyz.Nema ispravljanja,svi ozivljavaju i ostala sranja.Tako da je preporuka procitati prvo mangu pa tek onda gledati anime.Dugo sam cekao da najzad nastave sa pricom i danas su uploadovali prvi chapter novog serijala
Nema citanja dok malo ne odmaknu pa se zato podsecam najboljih delova starog serijala.
Ako samo gledate anime onda je preporuka prvo pogledati serijal iz 2001. pa tek onda iz 1993.Film koji obuhvata ceo prvi serijal Phantom Blood nazalost nikad nije preveden ali nema frke ako parlate japoneze
EDIT
:
Cover za part 8
[Edited on 21.5.2011 by Snake-Eyes]