Those are damn good taunts... Damn good.
I say them when I\'m in a fight, and everyone just backs off.
Number Flaggin 9.

Ratchet and Clank
Company: Insomniac Games
Main Series:Ratchet and Clank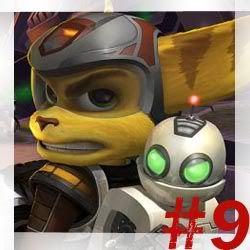 Everyone\'s favorite Lombax paired with a small robot takes the 9 spot. Insomniac Video games is really only known for two series: Spyro and Ratchet and Clank. Which makes one wonder \"How a company can get by on just two series\", well when they have a series that is a consistently good as Ratchet and Clank you can see how. Ratchet and Clank\'s partner ship easily can rival any other, even Sonic and Tails. Ratchet and Clank have been accused of being a copy of Rare\'s \" Banjo and Kazooie\", but the series is much more developed and advanced than the Banjo and Kazooie series. What sets Ratchet out from a lot of other characters is, he\'s just a normal guy, he really has no powers at all. He makes up for this lack of power by shooting the hell out of everything. Ratchet and Clank\'s gunplay is deep. useful and essential (Unlike other rodents who have recently got gun.. damn you sega). The characters and the series itself is rather humorous, which adds a lot of likeability to the series. Ratchet and Clank have been through 4 games in the last 4 years and they still make each game fresh, fun and exciting. Though Ratchet has taken the starring role in \"Ratchet Deadlock\" Clank is always there to help.
I Think Jesus will be number 8!
Stay tuned, it only gets better.... Hahahah just joking, everyone else on the list is uninteresting and square...Just kidding.. or am I?
[Edited on 29.12.2005 by shadic]