Originally posted by DarkShame2
wow, the final day is approaching.
I'm guessing a FE Char will be in it?
FE? Fire Emblem I'm assuming...?
I only know Marthe and Roy from that series, and that\'s only because of Smash Brothers, ive never played a fire emblem game.
Originally posted by Shadow1234
I sugesst Shadow to be on 2nd or even 1st place.I mean Shadow the hedgehog.\"shadic\" if you didn\'t noticed but Shadow hase more fans or like sonic i mean Shadow\'s population was grown up and he is realy rival of sonic.Not only in games or animes then by fans.I like them both but Shadow somehow .... i like that \"karakter\".
Lolz. I hate Shadow. I didn't mind him back in SA2, but once S.T made up a crappy excuse for him to come back in Heroes it just annoyed me. Not to mention \"Shadow The Hedgehog\" the game, which is both a insult to fans and gamers alike. As for Shadow\'s popularity, it\'s not bigger than Sonic\'s, it might be larger than any other Sonic character, but certainly not Sonics. But yes, my name is a mixture of Sonic and Shadow, but I created this name back when I could stand Shadow..
Anyways..Number 1 time!!

Mega Man
Company: Capcom
Series: Mega Man (Rockman in Japan)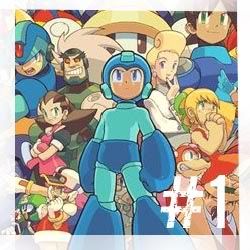 Did anyone not see this coming? It was pretty much a give away. The Blue Bomber takes the number 1 spot of my favorite video gaming characters (Minus Sonic). Mega man is easily one of the most branched out series ever, even more than Mario and Sonic. Capcom, a newly beginning company, wanted a platforming game, especially after the success of such series as Metroid and Mario. Mega man 1 was originally going to be a Astro Boy game, but Capcom couldn't get rights, so Kenji Inafune created Rock Man (Mega Man in English). Rock was created as a assistant for Dr.Light, but once Dr.Wily, Light\'s partner, stole Light\'s plans for other robots to rule the world Light gave Rock the power to stop Wily, making him into Rockman. Rockman would go through many adventures fighting Dr.Wily as the robot masters. Rockman is still a robot, he cannot hurt a human being, though in Mega man 7 he defies this rule and attempts to murder Dr.Wily, claiming "he's more than a robot", his attempt of stopped by Bass however. Mega man's personality is that of a 10 year old, yet he's undeniably loyal, just and kind hearted. Mega man's obvious ability is that of stealing other robot's ability to use against themselves or other robots. The classic Mega man series is still the longest of any of the Mega man series, lasting over 8 main games, numerous alternative games and 1 spin-off. In 1994 Capcom took Mega man a whole new direction, releasing Mega Man X for the SNES. X, the Mega Man of the game, isn't the original Mega Man, but a advanced version that Dr. Light created and capsulated for the future. The X series had some major changes to the dynamics of Mega Man, making him a bit more mature. It also enabled characters to upgrade X by use of weapons and armor. X, fighting alongside Zero, the last robot of Dr.Wily, take down evil robots bent on ruling the world. The series was again taken a whole new way in 1997, with Mega Man's first trip into 3D "Mega Man Legends" or "Rockman Dash" in Japan. The series, by many, is considered highly underrated. The series was thought to have no relation to the connecting X and Classic, but Capcom released a book that officially connect the series. Legends series takes place after the X series (or, more logically, the Zero series). Some have even speculated on such a connection based on comments in the X series; most notably the use of the word \"Elysium\" (with a capital E, indicating it is a proper noun) in one of the endings of Mega Man X5. Other examples include the frequently seen Reaverbot eye symbols that appear in Hyleg Ourobockle and Burble Hekelot\'s levels in Mega Man Zero 2 and Hanumachine\'s level in Mega Man Zero 3. Supposedly the ending of Mega Man Zero 4 foreshadows events, most likely the cause of the flooded world that Legends takes place on. In the game you take control of Mega man Volnutt, a young teenager who seeks out the treasures of the underground. The series, though not as popular as X or the classic, went on to a sequel and even a spin-off. Again, Mega Man was taken off into two new directions in early 2000. Mega Man Battle Network and Mega Man Zero for the GBA expanded the mega Man universe even more. Battle Network is actually the only Mega Man series that does not connect to the others. Anyways holy crap I think that's enough…Mega man > All. The end.
Jebus! That was alot.. anyways, that\'s the end of the list unless you guys want a crappy description of Sonic, who would be number.. 0?
anyways.. Worst gaming character tommorrow..it will be great, no worries.
[Edited on 6.1.2006 by shadic]